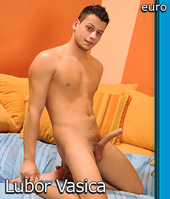 20 year old Lubor Vasica
is a cute uncut jock from the Czech Republic. Lubor is a Professional Bricklayer by trade and in his spare time he lives and breathes football, whether he's watching or playing the game with the guys! Today he's not working and has found himself horny as hell, so he's on his way to a needed release. He lays back on the bed and removes his shirt and drops down his jeans, exposing his throbbing uncut cock. Lubor begins working it hard and becomes hornier than ever. Removing his shoes, he shows off his feet and curled toes. He lays across the bed, with his cock and balls pushed beneath him, as he pumps and pulls his man meat! Face down and ass in the air, he shows off his hairy ass, spreading his cheeks wide and stretching his pulsating hole! He stands with one leg on the bed, stroking out the pressures of the day! Lubor is ready to release, so he lays down on the bed, stroking out a thick and creamy cum shot across his thigh!
PREVIEW
Loading the player ...